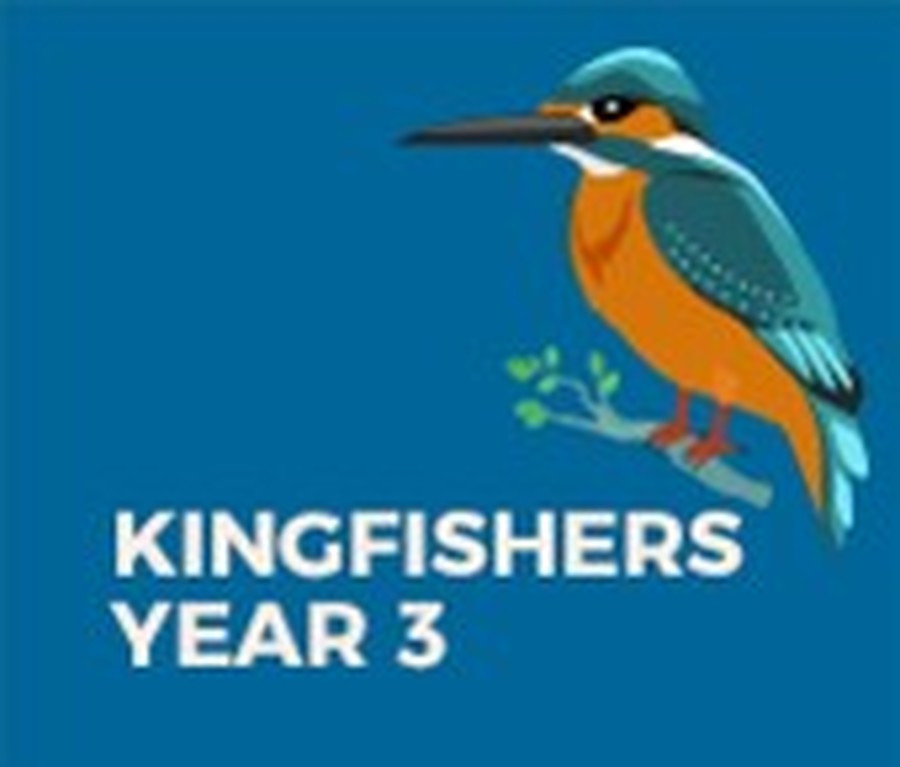 | | | | | |
| --- | --- | --- | --- | --- |
| | | | | |
| Login to your school account to complete activities and save work to your personal folder for your teacher to see. | Login to practise your maths skills. | Scan the class QR code and add your work to your student story. | Search online using Swiggle. Remember to always ask an adult when you are searching online. | Read books online matched to your reading ability and look at your personalised reading list. |
welcome to kingfishers' class page
Class Teacher: Mrs White
Higher Learning Teacher Assistant: Mrs Donald
our learning in the spring term
Coming soon...
English
We are going to be learning about recounts where we will be writing about our own experiences as well as reading diary extracts from famous explorers.
We will also be learning about adventure stories, where we will use a model text to help us understand the language and structural features of this genre. We will then apply this learning when creating our own stories.
Maths
We will start the term by learning about number sense and reasoning within 100. This will help us to become secure with our place value understanding of 3-digit numbers.
Science
We will be learning about light. This will involve learning what creates light and how it travels as well as looking into how shadows are created. We will also investigate how our shadows change depending on the position of a light source.
PE lessons will be on Tuesdays and Wednesdays - please ensure that you have your kit in school, and that it has your name on it.
Walk Like An Egyptian
Our topic this half term is called 'Walk Like An Egyptian. This topic will introduce Kingfishers to the location and places within modern day Egypt before we delve into our learning on Ancient Egypt.
Topic
We are learning about one of the world's earliest civilizations - Ancient Egypt. We will look at daily life, jobs, religion and the importance of The Nile and farming in this time.
In design we will be looking at objects from this time and will be designing, making and evaluating our own replicas.
PE
We will be working on balances and movement in Gymnastics this half term.
French
In Kingfishers, we will be introducing French lessons by starting with some basic vocabulary and conversational skills.
PSHE
We will begin our PSHE learning by discussing school/class rules and reasons for why it is important to have rules.
Homework
In Kingfishers Class, children are expected to read regularly and to complete a weekly homework task. These tasks are set on a Friday and are to be handed back on the following Thursday.
We will collect all homework tasks in a homework book, that pupils will be given regularly, to read and respond to feedback.
Homework tasks are based on maths and English objectives that are linked to class learning. English tasks are usually set as a written or reading objective.

If you would like to contact Mrs White, please email:
katrina.darbyshire1@exning.suffolk.sch.uk